BOYFRIENDS CLOTHES
since we've been packing for the big move, jesse's been finding some really cool things amoungst his countless drum cases and closet boxes. a lot of tour passes, news paper clippings and other things that suggest my jesse is more of a rock-star than i gave him credit for. none the less, whilst cleaning jesse found this amazing guns n'roses shirt that he bought off of ebay years ago. doesn't fit him; so what does that mean? mine. mine mine mine. oh, i also love a tim horton's breakfast sandwich occasionally.
THE FIRST SNOW FALL OF THE YEAR maybe if today wasn't so depressing in terms of the grey hue of the sky it would've been a lot sweeter, but today was the first snow fall of winter! it usually gives me a fuzzy feeling; like christmas is right around the corner (which it is. fuck.) but the wool blankets and knitted booties i wear around the house keep me nice and warm. so i'll just sit here with a cup of hot coffee and watch the snow, thank you very much.
JAMIE AT HOME
one of my favorite foodnetwork shows with one of my favorite celebrity chefs. i used to have a big crush on jamie oliver; i think it might've had something to do with his wild blonde hair and british lisp. not so much anymore. but jamie at home is an interesting take on a traditional cooking show; all of his ingredients come from his backyard and most of the show is shot with him digging through the dirt, pulling out fresh berries and vegetables. cute, right?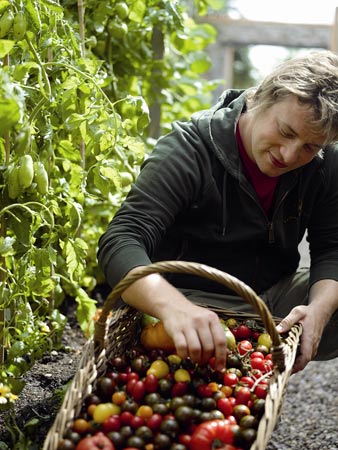 MY NEW VINTAGE LEATHER BOOTS i found these babies at dennis's house of vintage (571 queen st. west) for 40 bucks. totally worth it considering they're in great shape, and the owner personally cleaned and treated the leather before putting them on the floor. they're oh so sexy and vamp up any boring outfit with a pair of black jeans.
DJ'ING PRIVATE EVENTS lately my partner lindsay and i (bangs & blush, hello!) have been busy as bees djing all over the city of toronto, and included in those parties have been a few shopping events for the gap. last week we were djing at the gap on bloor st. and it was lovely; finger foods, champagne and a secret sale to all in attendance! i love champagne. did i mention i love champagne?